Way back in October, I decided to make a dress out of the Calypso Batiks that had just come into the shop. I had my eye on these two fabrics, because I thought they were so close to clashing but could actually look really nice together! We are now sold out of those bolts, but I'd love to see something in the brown colour way of these fabrics! (any takers?)
I'm super excited because with this warm spring weather we are getting today, I am finally able to wear my dress!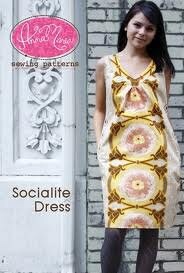 We had a copy of the Socialite Dress pattern that had been damaged in one of the many floods we experienced last year. This meant it was not in a condition where we could sell it, but you could still read the pattern, so I decided to give it a try!
In making this dress, I learned about making gathers by hand sewing through a section and pulling it tight, then sewing the seam, and then pulling out the original thread. I improved my pocket-making skills (I'm a firm believer that every dress should have pockets!) and I learned about pattern fitting and construction when I altered the pattern to fit me specifically. I made the arm holes a bit bigger than what the pattern suggested and I made the neckline a little bit lower. This was a fun project to make–I absolutely love the back of the dress!
Find more wearable patterns from Flare Fabrics, here!